Our four pillars of purpose
inside boundaries of paradox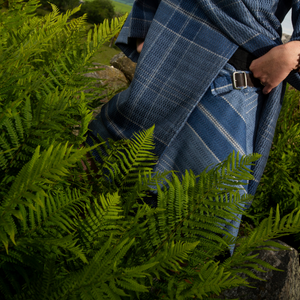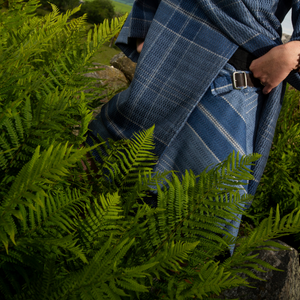 using our voices & hands for change
defined by what we are not
Supportive, multi-generational and completely bonkers... our team is a family of artisan rebels local to the Highlands, working every day to continue the Prickly story
The careful hands that turn our warp for the first part of the tartan, she works in the core of the mill… always brightening it with her bubbly energy! She can always be found helping others and bringing the fun to everything
She's got all the regenerative fabric passion and is one of our wonderful weavers. When she's not working one of our legacy looms, she can be found tucking into gluten free snacks and sharing resources for conscious textiles!
She is a natural creative in all areas of textiles and her careful hands weave our glorious eco-fabric. Calm as a cucumber and known for always saying "That's smashing!". Very kind and organised… but with a cheeky side too!
He's been building machines his whole life... and it shows through his impeccable skill and care that keeps our looms singing. He's the bear of our pack, but a big softie at the same time. Incredibly helpful, he can be found fixing everything around the mill… and taking the piss!
He's been a maker in the Scottish & Northern Irish textile industry for almost 60 years, so your Prickly fabric is in super safe hands. He's a humble expert… and the biggest joker of the pack!
Our cloth cutting queen who never wastes a millimetre, and cuts fabric with serious precision! She's a woman of many talents, fun-loving and free.
A true maker at heart, she sews all your kick-ass kilts… our #WomenInKilts wonder woman! She's hard working and known for telling a cheeky story
A creative whizz behind the sewing machine, she is fierce with fabric! She is also super passionate about the Highlands and can be found around the mill having insightful conversations – and big laughs
The hands that make your zero-waste coats, this badass lady cares for all things people and planet. You can regularly find her up Fyrish hill behind the mill after work and sunbathing at lunch time.
Our office whizz who organises all your lovely orders with sass! We're all in awe of her incredible memory. She can always be found helping someone… or making them laugh.
She's the badass bubbly lady who packs up all your orders with love! Our thoughtful night owl, she can be found hand-writing little notes for packages and bringing food to the mill when it's been busy. She also has a big, beautiful smile!
She handles all our badass B-Corp stuff and makes sure we don't lose our shit. She's friendly, curious and passionate about responsible agriculture… cows in particular… in her own words: "I am a cow! in every sense of the word"
She started Prickly in her shed with some passion and a sewing machine she'd never used before. She does it all to kick ass in the fabric industry with relentless integrity… and a shit load of coffee! She shows us every day why you should never give up. Somehow, she also still manages to stay grounded and have some serious fun!
The Bad-Ass Story of our Existence
Where did it all begin, the why then, the why now and the future of why not?
Officially A Rebel Member Of
Officially A Rebel Member Of