Our four pillars of purpose
inside boundaries of paradox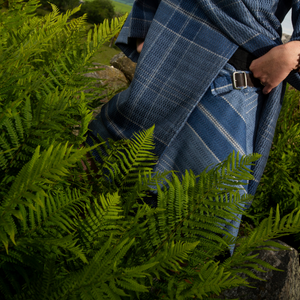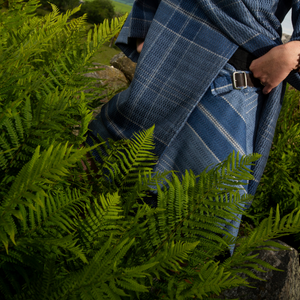 using our voices & hands for change
defined by what we are not
B Corp UK was founded in 2006, and in that time 150,000 businesses have applied to be assessed.  In 16 years only 4,500 businesses have been awarded the certification.  We are so proud to be the First and Only B Corp Certified textiles mill in the whole of the UK.
We believe we are now the FIRST B Corp business to then go on to disclose this level of transparency about our score, what we do well and what we need to improve on.
What are the B Corp basics?
To be awarded a B Corp status in the UK you need a score of 80 or more out of a possible 155.  The score is based on 5 impact areas of assessment.  B Corp will look at what you do in the areas of best practice around governance, workers, community, environment and customers.
As a B Corp you are not required to disclose your score anywhere, but we feel this is important.  We know we are accountable for everything we share, and now more than ever we need to back things up.  Merely saying X Y Z is not enough, we should all want to be more transparent and we know you our customers are looking for this.
B Corp companies are required to be assessed every 3 years, therefore, our next assessment will be formally carried out in December 2024.  However, as our assessment was carried out during the 'pandemic' years, it was pro-longed due to the exceptional circumstances of the time, and the team at B Corp UK were impacted by this.  We will however look to voluntarily apply for a 3 year review earlier than scheduled, given that our assessment was based on our 2019 practices and application.
Our Score
We are proud to share with all that we scored 103.6 in our overall first assessment.  This was based on our application submitted in the summer of 2019 and based on all initiatives we had in place just after one year of manufacturing operations.  We are proud to be one of the highest scoring B Corps in Scotland and every day we are doing more to be more, our next score will be the proof of that!  
You can view this on the official B Corp UK website, along with the scores of all other B Corp companies.
Our Governance Score 14.7/18
The Governance Impact Area evaluates a company's overall mission, engagement around its social and environmental impact, ethics, and transparency. This section also evaluates the ability of a company to protect their mission and formally consider stakeholders in decision making through their corporate structure (e.g. benefit corporation) or corporate governing documents.
The areas for improvement based on our assessment are listed below, along with information on the action we have taken since 2019:
0.25 points for specific goals set in our mission statement, opposed to a general commitment - our mission statement can be read here and it clearly defines our current battle is against all things relevant to fast fashion.
0.3 points for carrying out employee performance reviews that formally incorporate social and environmental issues - we have never put targets on our employees to reach targets around social and environmental issues, but we do our best to make the workplace systems super simple and support them to not waste energy, to maximise our recycling output, to engage in community projects and to be happy little rebels.
0.5 points for formal board reviews of KPI's on social and environmental performance - we are working on these for making public in April 2023, looking at minimising our energy consumption to only use what is needed (which is from a green renewable source but even then we don't want to waste it) and setting targets for the amount of community projects we can do for free, starting with our Blank Canvas events and Anti Landfill Label initiative for Summer 2022
0.25 points for developing a formal procedure and engagement plan to gather information from stakeholders, address results from engagement with a designated individual or team responsible for follow ups - our little admin team is still growing and for December 2022 we hope to share annual surveys with all of our customers for feedback on how they think we are doing. 
0.5 points for establishing KPI's on the company's social and environmental performance - we will be doing this as part of the formal board review of KPI's all set to be completed for public share also before April 2023
0.71 points for introducing corporate oversight by a Board of Directors with at least one member who is not an executive or owner - as a small company we do not as yet have non Executive Directors.  We have run a small and tight ship since we started and we believe we have established proof of life for more businesses to exist in the way we do.  For us this means we are more attractive to the right people, with the sell less to more people mission we hope to appoint a paid non-exec role before December 2023
0.11 points for conducting an ethics-focused risk assessment in the last two years - we have not done this yet, but it's on our to do list for our 1 year anniversary of becoming a B Corp, December 2022 
0.18 points for sharing our social and environmental performance publicly - we want to get this right and not be confusing or 'greenwashy' so we are going to take our time to get this right in time for December 2022, our B Corp Birthday
0.71 points for sharing all financials with all employees - we have never formally done this, but have always talked about our break even points with the team.  At times you don't want to make your team worried as a start-up, because lets face it those first few years are tough and you stretch yourself.  Like all of the actions in this impact area we have this in our planner for December 2022, so Clare more than anyone will take responsibility to ensure it's a sustainable year!
Our Workers Score 18.2/32
The Workers Impact Area evaluates a company's contributions to its employees' financial security, health and safety, wellness, career development, as well as overall engagement and satisfaction. In addition, this section recognises business models designed to benefit workers, such as companies that are at least 40% owned by non-executive employees and those that have workforce development programs to support individuals with barriers to employment.
The areas for improvement based on our assessment are listed below, along with information on the action we have taken since 2019:
0.76 points for paying more than 29% above the minimum wage in Scotland - as our assessment was during 2019 things have changed for us, good and bad.  The pandemic times have been an economic stretch for all and laced with uncertainty.  We cannot deny it has been a worry at times for us too.  2022 is a year where we believe consumers will seek out purpose-led businesses like ours and opt to support them first.  With that, we are currently embracing wage and holiday increase options and health insurance benefits for all, in the hope that for our B Corp birthday we can say we pay everyone 45% more than the minimum wage in Scotland!

1.26 points for creating initiatives to increase wages and benefits - this was something we questioned and chatted about with the team.  For a team within a purpose-led business, we know that what we earn is super important, but it's not the be all and end all.  For many it's super flexible hours, it's flexible holidays and for our team we know that they love how much we try to do for other communities who are in less fortunate positions than us.  

1.26 points for compensation policies and practices such as bonuses, profit-sharing and employee ownership opportunities - when we applied for B Corp in 2019 we were just over 1 year at our mill, and to be honest there was always a risk in those very early years that we might not be around in the next.  Having learned our craft, reached more customers who not just love what we do but actually buy from us, we have moved from scary start-up times, to we are now walking - let's see if we can jog a little.  For December 2023, we aim to create a fair profit-sharing pot for the financial year ended September 2023.  This gives us a couple of jogging years to ensure that when we make this commitment we can deliver on it.

1.26 points for having an employee ownership policy - we would love to introduce this in the future and with committing to constitutional changes in our Articles of Association, we take comfort knowing future employee ownership will also follow the commitment we have made - ensuring that all decisions in Prickly Thistle must not prioritise profit exploitation over people and planet.  We are being up front and honest about this one, we don't know when that will be, it could be 1 year from now or 10.  But we want to give our team something solid above all things.

0.32 points for retirement programmes - all of our employees receive monthly employer contributions into a pension fund on their behalf.  Currently this is 3% of their earnings.  All of our employees are made aware that they can personally choose a fund that suits them best and their circumstances.  For example, the pension provider has wholly ethical fund options should they wish to select this, knowing that their pension funds are not funding industries such as oil exploration.

0.25 points for providing financial services to employees - during the assessment period we provided all employees with Life Assurance cover that also provides them with advice in the form of a We Care Service.  This covers things such as medical, lifestyle, mental health, financial and legal advice.

3.33 points for supplementary health benefits - as noted above we now have Life Assurance for all of our team, whether full-time or part-time it's equal for all.  All employees register their wishes as to who the beneficiary is, and we hope it provides them with a little peace of mind in what often is the saddest of times.

3.33 points for having a policy in place to ensure part-time workers become eligible for health benefits - for us everyone is an important part of the team.  For example, if they have a young family and cannot work full time then why should they be treated any different, we say no to that.  Equality for all is something we are very passionate about.

0.35 points for having in place a professional development policy and practice - since 2019 we appointed a dedicated right-hand rebel support team member with a prime part of that role being support for all employees.  She has introduced and actions weekly support dedicated to them, from new start inductions, to probationary reviews, to annual appraisals, weekly department meetings, return-to-work support, role diversity when requested and buddy training with other members of the team.  But more than that, she checks in with everyone every day just to make sure they are okay, because regardless of the fancy policy you might have, someone just asking if you are okay means everything!

0.7 points for an employee review process - as of 2021 every member of our team is invited to be part of an annual review.  The review covers everything from how they are getting on in their role to what they think about the business.  Where employees would like to set SMART goals then we support that too, each one is designed to be tailored to what supports and makes the employee feel most comfortable, because everyone is different, we let them decide.
0.14 points for skills based training for all employees core to their responsibilities - with now formally having our annual review process we can report to B Corp on our next review what % of employees requested training and if this was provided.
0.07 points for confirming that during our employee review process all employees had feedback on the following: peer and subordinate input; written guidance and career development; social and environmental goals; SMART goals and 360-degree feedback - We can now demonstrate to B Corp at our next review that these steps are now taken on an annual basis to show how we are improving all employees' experience in a documented way.
1.00 points for supplementary benefits provided to non-managerial workers such as on-site childcare, off-site subsidised childcare, free or subsidised meals and a policy on supporting breastfeeding mothers - currently we disclosed supplementary benefits as flexible working, staff gift vouchers and a staff discount scheme.  For working mothers, we will engage with our whole team annually on the items specifically listed by B Corp for feedback on what we can do to support them in these areas.  We will then ensure this is formally reported to B Corp at our next review.
0.67 points for surveying and benchmarking engagement and attrition - as our team has more than doubled since our first review, we recognise the importance of formalising and reporting this information.  We therefore commit to carrying out an annual satisfaction and engagement survey each December with all members of the team.
Our Community Score 38.4/58
The Community Impact Area evaluates a company's engagement with and impact on the communities in which it operates, hires from, and sources from. Topics include diversity, equity, and inclusion; economic impact; civic engagement; charitable giving; and supply chain management. In addition, this section recognizes business models that are designed to address specific community-oriented problems, such as poverty alleviation through fair trade sourcing or distribution via microenterprises, producer cooperative models, locally focused economic development, and formal charitable giving commitments.
The areas for improvement based on our assessment are listed below, along with information on the action we have taken since 2019:
0.28 points for creating and managing inclusive work environments, for example including a statement on all job postings about our commitment to diversity, equity and inclusion, conducting blind reviews of applications without attaching names or identifiable characteristics, we offer training to all employees on this topic, we conduct analyses of our job description language and requirements to ensure they are inclusive and equitable - typically most members of our team have been through personal connections which is often the case across rural communities when it comes to new appointments.  But we do wish to develop a clear policy around these points for December 2022 to ensure that as we grow we always grow with kindness to all.

0.69 points for reporting % value of workers you employ that identify themselves as part of an ethnic or racial minority - we are 100% committed to an equal and inclusive workplace and completely understand the importance of diversity in all workplaces in all locations.  We just want to share that given our Highland region location we are a rural-based business and as a whole the diversity of our region is not something we can influence.  We will continue to report annually on this information in the context it's being sought.

0.12 points for the % value of workers you employ coming form other underrepresented populations such as individuals with disabilities, LGBTQ+ individuals and individuals who have been incarcerated - similar to the above update, we wholly appreciate the significance of this and will continue to report annually on this information in the context it's being sought.

0.69 points for the % value of workers in management from underrepresented populations - we currently have 0% and this is what we reported.  Please refer to the action notes above.

0.34 points for formal supplier diversity policies of programs being put in place - we will ensure this is in place for December 2022

0.43 points for increasing the % value of our purchases being made from companies that are majority-owned by women or individuals from underrepresented populations - we reported 10-24% which has been limiting given that we will always place our priority on the place of operations and with there being so few potential suppliers with ownership structures that we have no influence over.

0.83 points for increasing the % value in job growth rate for all positions - in 2019 we reported 25-49% and we hope that with our mission to sell less to more people we can create the operational demand to increase the number of jobs we so want to create.  When this happens it does mean we are moving market share from less ethical brands to ours, which would be amazing for all!

1.25 points for improving impact by banking with institutions who are certified CDFI or national equivalent social investment organisations, for example are they B Corp certified, are they a member of the Global Alliance for Banking on Values, are they a cooperative bank or credit union, are they a local bank committed to serving the community or are they independently owned - we bank with Barclays and in 2021, Barclays was a founding member of the Net-Zero Banking Alliance, part of the Glasgow Financial Alliance for Net Zero

1.28 - points for increasing the % value of volunteer service time capita per worker - we take part in various volunteer services but have never formally recorded this.  We started doing this in January 2022 and will report formally on this for December 2022.

0.8 - points for increasing the % value of relative input to community investments - like recording our volunteer service this is something we will report for December 2022

1.54 - points for increasing the % value of revenue donated to charity - at the time of applying for assessment we had listed none which was our mistake because it was approx 1% (this was July 2019) and now we have a dedicated Pay It Forward page publicly declaring the donations we make and our commitment to ensure this is at least 2% of our revenue each year

0.15 - points for evidencing methods that we use to evaluate the social and environmental impact of our suppliers - this is something we have not started yet but will look to incorporate meaningful ways of working with suppliers to do this, December 2022 is our target date for an update on this

0.17 - points for increasing the % value of our suppliers that are located in low-income communities - we reported 20-30% in 2019, we will make sure that for December 2022 we report if this has changed.  Using suppliers as close to home as possible is a priority for us and it always will be, what may have changed in this time is whether they are classed as low-income communities, but we will find out and make it public!

0.78 - points for increasing the % value of our purchases that are from suppliers that have third-party social or environmental certification - we reported 1-24% - like the action above we will ensure we review this for December 2022 and list any certifications (bearing in mind that not all certificates mean anything...)

12.63 - points for increasing the % value of our total revenues donated to charity - we reported between 0-1.9% and this has now increased.  As we become stronger and more financially stable we will always give everything we can.  To continue giving we do know that a solid purpose-led business needs to be the foundation. 

0.4 - points for reporting formal charitable giving practices, for example do we play a leadership role with recipient charitable organisations - Clare since 2017 has been a voluntary trustee with the Scottish Tartan Authority, we have done lots in the area over 4 years but we admit we never wrote it down in a report because we were so busy doing.  As of 2022 we have started listing all of these things, not so we can 'show-off' but to show others we can all do that little bit more in this area and still run a business.

0.79 - points for defining outcomes we seek from our donations - at the time we said no as we were in many ways still defining outcomes, new for 2022 we will be announcing in July 2022 a charity partner, watch this space....
Our Environment Score 28.9/43
The Environment Impact Area evaluates a company's overall environmental management practices as well as its impact on the air, climate, water, land, and biodiversity. This includes the direct impact of a company's operations and, when applicable, its supply chain and distribution channels. This section also recognises companies with environmentally innovative production processes and those that sell products or services that have a positive environmental impact. Some examples might include products and services that create renewable energy, reduce consumption or waste, conserve land or wildlife, provide less toxic alternatives to the market, or educate people about environmental problems.
The areas for improvement based on our assessment are listed below, along with information on the action we have taken since 2019:
2.00 points for evidencing a % increase in our green building standards - we reported 20% because at that point we were using a pre-loved portacabin for our office and we were renting an energy efficient industrial building.  Since then we have done lots in this area, we have continued to rescue unloved outbuildings as we have grown, why buy new when you can repair existing.  Its like cost per wear but in a building context....

0.67 points for work we have done with our landlord to improve energy efficiency and waste reduction - since 2019 we have had all of our roof lights replaced with LED alternatives, we have installed an energy smart reader to monitor how much green energy we use and we have one tiny general waste bin on site with a huge recycling bin for paper and hard plastic based waste (yarn boxes can get damaged and it's the perfect place to recycle our milk jugs and milk cartons - yes we like coffee...)

1.33 points for creating formal environmental management systems - this is another big area for us that we know that one bite at a time we will have formalised, our aim is to have this all in place for December 2022.

2.00 points for using environmentally certified products - this is a really interesting one given the latest on these certifications (listen to our podcast Ep 12) we may even take this up with B Corp, but in between 2019 and now we have been able to establish that we actually use a lot of products at our mill that are more environmentally friendly, from our dish washing soap to our loo roll and oat milk.  We are making progress daily not just with raw materials but with everything.

0.68 points for monitoring energy usage and setting reduction targets - we have now been monitoring our energy usage for a year, for December 2022 we will have formalised our usage reduction target with the support of our team, as they will be the ones who will know when things are switched on when they don't need to be.  We will be those people who switch lights and heaters off if they are not required....

0.91 points for monitoring greenhouse gas emissions - we know this is a big undertaking, and that is because we want to get it right.  There are a million calculations out there right now which actually gets really confusing.  For December 2022 we will have formalised our methodology and approach to monitoring, we will keep it real!

0.91 points for monitoring air emissions - along with the above, air emissions will be part of this

0.68 points for reducing the environmental impact arising from travel and commuting - we are aware of our rural location and don't use that as an excuse, but public transport never mind green transport alternatives are not exactly regular where we all live and where our mill is based.  We do limit business travel to essential only, embracing the world of zoom has been great for that.  We will for December 2022 have a management policy in place whereby we recognise our impact in this area but also what we do that helps reduce the downsides

1.37 points for sourcing a higher % of raw materials from local suppliers - the main material we use is wool, it is spun and dyed in Scotland and the raw fibre is largely sourced from overseas ie Australia by our yarn suppliers.  Since 2019 not much has changed yet.... we are working on a first of its kind innovative piece of scientific research to make thick hair thin (we cannot say more as it's so top secret....) and we have since started working with a Shetland based yarn spinner and dyer who specialise in wool yarns from Shetland fleece.  So we have definitely racked up a few more point worthy actions here

0.38 points for managing the impact our business has as a result of transportation - since 2019 we opened up an online store (January 2020) and we have always minimised the number of shipments we send to customers.  For example, if they have a couple of orders we will bundle them together and if they paid shipping twice we will refund them.  We also don't pack fresh air, all of our products arrive snug, not squished, but not floating about with even more packing/filler.

0.91 points for GHG emissions offset - we won't ever get these points, because for us offset is a way of getting off with doing bad things, we would rather focus on getting it right first time and not just buy our way out of it!

2.00 points for monitoring and managing water usage - along with emissions and greenhouse gases monitoring we will cover our water usage also. We literally go to the loo and drink coffee, and perhaps a bit of water for our steam iron - but that is it.  None of our processes at the mill require water, and for December 2022 we will share exactly how little water we use (Clare always talks about not washing her hair when it comes to this but we will leave that one out....)

2.00 points for having formal water conservation practices - new for 2022 we are going to introduce rainwater harvesting which we can use for the odd loo flush.  For December 2022 we will have a formal policy and practice on this - let'suy see how creative we can be!

2.00 points for monitoring toxic wastewater - we know we don't have toxic wastewater at the mill and we answered N/A so at our next B Corp review we will be asking them why we lost points for not having toxic wastewater, always good to ask why!

1.33 points for formalised water use practices - this will be included in our review for December 2022

1.09 points for monitoring and reporting non-hazardous waste - since 2019 we have introduced recycling bins in every area/office of the mill, we have one for composting, one for recycling and one for other.  We have things like a tea-bag pot for our composter and we also now send back unwanted waste streams to our suppliers who keep sending them to us.

0.44 points for improving the environmental impact of our packaging - since we started our store in January 2020 we have introduced recycled FSC cards dedicated to re-use and recycle and these go in every order.  Not only is the card recyclable but we share lots of fun ideas on how our customers can make sure they minimise the environmental impact of every piece of packaging we send to them.

0.18 points for increasing the % of reusable/recyclable materials - we reported 75-99% and we are pleased to say it's definitely 100% now

0.36 points for increasing the % of environmentally preferred input materials - we reported 75-99% and before we say we have done it, we will be honest and say we need to check a few things before we just say yes we are 100%

1.09 points for a formal system being put in place for hazardous waste - we will have a formal system in place for December 2022, at the moment we hold up our hands to say we do use machine oil to keep the looms running smooth - and for the end of the year we will have found an alternative, one way or another, and remove all hazardous waste from our site, be gone you bad stuff....

0.27 points for demonstrating all of our chemical reduction methods on site - we for sure need to look at things like printer toners/inks - we do try to print as little as possible, and all of these small things add up!  For December 2022 we will have completed a full site assessment to catch everything and make sure we are not forgetting the small things.

0.27 points for demonstrating how we have defined outcomes and measures in place to help protect and support land/wildlife conservation - we will take time this year to establish what we think is the biggest positive impact we can have in this area and how we best report this simply.  For us, working with wool is a joy, it's amazing and where we can help protect and support the land and its wildlife in connection to that, then that we must do.
Our Customers Score 3.2/4
The Customers Impact Area evaluates a company's stewardship of its customers through the quality of its products and services, ethical marketing, data privacy and security, and feedback channels. In addition, this section recognises products or services that are designed to address a particular social problem for or through its customers, such as health or educational products, arts and media products, serving underserved customers or clients, and services that improve the social impact of other businesses or organisations.
The areas for improvement based on our assessment are listed below, along with information on the action we have taken since 2019:
0.17 points for monitoring customer satisfaction, assess the outcomes produced for our customers and hold third party quality certifications or accreditations - during the certification process we developed ways to capture customer reviews formally and share them publicly so we are thrilled to say this is in action.  We also developed pages on our site dedicated to our Supply Chain, listing who they are, where they are and the certifications they hold, so another little tick for job done at our next B Corp review.

0.25 points for offering live time support to customers - during our review period we added live chat to our website, we will be pleased to share that with the B Corp assessment team as another tick job done.

0.33 points for developing a program that allows us to continuously improve outcomes produced for customers - a formal program is yet to be developed and we will do this for our B Corp birthday, looking at the number of returned orders (which we can literally count on one hand), quality feedback and customer service surveys.
Last Updated March 2022
The Bad-Ass Story of our Existence
Where did it all begin, the why then, the why now and the future of why not?
Officially A Rebel Member Of
Officially A Rebel Member Of