Our four pillars of purpose
inside boundaries of paradox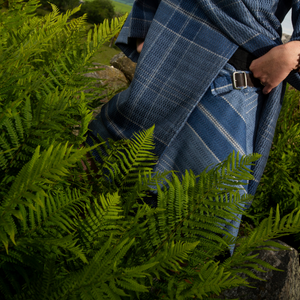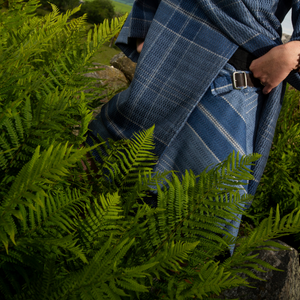 using our voices & hands for change
defined by what we are not
KYLE KILT KABIN - SUMMER 2023 POP-UP
Our Summer kabin at the Kyle of Lochalsh is now closed.  We want to thank every single person who stopped by to see us!  As much as we are east-coasters we fell in love with the west and cannot wait to come back next Summer to see everyone safely over the sea to Skye....
EDINBURGH RESIDENCY STORE
We are thrilled to have spent a fab summer with Howie & John this year, and we are now back in the Highlands working on a winter store a little bit closer to home.  In the Edinburgh store we have an exclusive collection of Wild Robes available to purchase - the perfect outer garment for roaming Scotland in the chilly months....  Pop in and see them!
HIGHLAND MILL HQ & MILL STORE
Do you have a shop on site and daily tours?
Yes we sure do!  We have full mill tours now available via our booking system below or please feel free to come along and browse our mill shops.  
If you wish to book at tour (Tuesday each week for the Summer season), then you can click here or if you want to just visit our shop spaces then please feel free to pop along anytime between 10am-5pm Mon-Thurs, someone will be here to help.  Please note all tours should be booked in advance, as we cannot always guarantee a tour on the day of your arrival.
What if I want to pick up an order?
We are open for all online orders that have selected the pick up option and for anyone who needs helps with measuring up we are here with our measuring tapes in hand! 
Do you have any visiting events happening at the mill?
Currently we don't have our full 2023 mill event plan ready for publishing, but do come back to this page.  Or indeed sign up for our updates via email or whatsapp and you will always find out first! 
Where is the mill located?
You can find us on What 3 Words - and just checkout the ever so relevant 3 words for our location, who knew! https://w3w.co/stands.riskiest.nothing
The Bad-Ass Story of our Existence
Where did it all begin, the why then, the why now and the future of why not?