Our four pillars of purpose
inside boundaries of paradox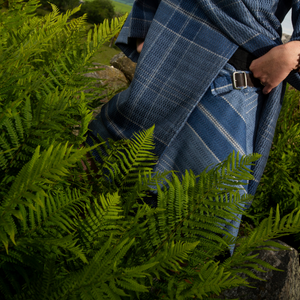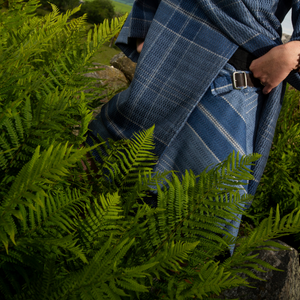 using our voices & hands for change
defined by what we are not
At Prickly Thistle we love nothing more than when customers ask us questions, the who, the why, the with, the what. Yes we are tartan rebel disruptors when it comes to design, cloth weaving and product creation, but we want to be accountable for every decision we make.
When it comes to the 'Who Made My' question, we say every customer has been co-authors of everything we do.
The global textiles industry has been fundamental in causing significant damage to both people and the planet for decades.  This includes modern slavery and raw material methods are being ignored to make products that often end up in landfill.  We believe that we can play a vital role in encouraging transparency and change for the future of both of these issues.  
But where does it start and where will it end?
The answer lies with every customer and every purchase you make from the brands you support.
It is the little changes over time that will shape the trends of the future.  We believe it will be a trend that will not literally cost the planet, a trend that will design out waste and ultimately revert to sustainable creative methods that will last lifetimes.
We encourage you to buy less and love more,
We encourage you to wear your values,
We encourage you to be the change you want to see in the world.
Just ask the questions, the who, why, what, where and how....?
So, to answer some of our customers' questions;
We weave with natural fibres only, as natural fibres do not release pieces of nasty man-made fibres on a daily basis.  Did you know there is more plastic in the ocean from micro-plastics released every time you wash a garment with a 'poly'?  This means there is more plastic in the ocean from textiles than from bottles and straws, which can ultimately end up inside us through the food chain.
We source our yarns primarily from Scottish spinners and dyers.  We believe in the transparency of your label, and stand strong against false provenance sales in any country. When creating an icon of our country, tartan, then we must honour its heritage and the spirit of the cloth by sourcing Scottish. Over the last few decades the Scottish textiles industry has reduced vastly in size, with very few spinning and dyeing yarns.  We are behind the scenes working on how we can grow this once again with new native raw material innovations.
We power our mill with green energy, energy generated by the mighty wind power of the Highlands.  It is important that we reduce any negative impacts that we may have on the environment.  Energy consumption is the main climate damaging action so we have chosen to pay more for our energy at the mill, energy harvested by Highland wind turbines not too far away from our mill. 
We weave with legacy looms dating back to 1929.  With very few remaining in the world, these cast built engineering works of art are built to last centuries.  Not only will we never need to replace them but they take their time when weaving our cloth, perfect for our artisan beliefs that mass production and fast fashion have driven wasteful consumption.
For finished products that have raw materials we don't create at the mill, such as our cushion pad inserts or yarns, we ensure that we source them in Scotland and proudly promote the 'Made in Scotland' label.  We have visited our suppliers places of work and/or we have asked them to share their environmental and ethical policies.
Our packaging comprises of branded and unbranded layers.  We have made careful choices around these as we want to always give our customers options.  Options to recycle, with layers of packaging perfectly suitable for reinventing into the next layer of wrap for someone else.  All you need to do is dispose of these layers at your local paper and card recycling facility.  Or you can have the option to reuse, with unbranded layers these can be used for gifting to another or with our cotton dust bags you can use these for popping out to buy a loaf of bread or for your child's next swim day.
All of our waste wool from weaving and product manufacturing is minimised as a priority, but for the little drop that does not quite make it into a Prickly Thistle product, we compost it on site.  This mix of natural fibres, grass cuttings and leaves is resting in preparation for future landscaping projects at our mill.
For the most important cogs in the wheel (or loom we should say), we would not be able to do what we do without the most amazing team of people who work at the mill.  It is vital to us that we create a place they enjoy coming to everyday.  For us what we do is not just a job, it is a way of life in some ways, where we work hard everyday for the values that drive us.  Integrity, inclusiveness, identity, responsibility and the freedom of imagination!
The Bad-Ass Story of our Existence
Where did it all begin, the why then, the why now and the future of why not?
Officially A Rebel Member Of
Officially A Rebel Member Of