Our four pillars of purpose
inside boundaries of paradox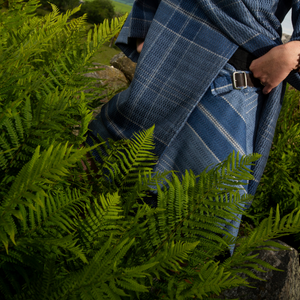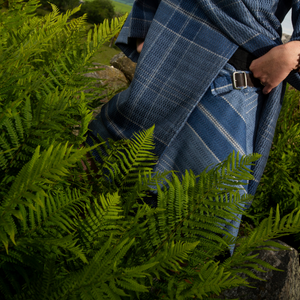 using our voices & hands for change
defined by what we are not
For The Most Ethical Clothing Brand for Womxn in the World
Experience
Prior to 2018 – we had never woven any fabric or made any clothes before setting up the mill, brave or bonkers.... both!
April 2018 to March 2022 – we restored the weaving of textiles to the Highland region of Scotland, by creating a mill and saving century old equipment from being scrapped. We made mistakes, we learned more than we could ever have imagined, we made it work and we are still here.
April 2022 – we have used our inexperience as out greatest asset and questioned everything, to now be one of the worlds most ethical clothing brands for womxn!
Education
The School of Life – using our personal experiences as a collective team, we have passed the classes on passion, purpose, critical-thinking and integrity.  Through hard work and determination, we have gained disruptive distinctions in all.
The Global Academy – during our 4-year chapter we have embraced and forever been humbled by the global teachers that are our customers, our community. Providing us with a masters in inclusive global citizenship.  We LOVE you all!
Skills & Personal Qualities
We developed our own four pillars of purpose, Keeping It Real, Inclusive Creativity, Sustainable Integrity and Activism & Action.  Sharing with all the issues and actions we have taken in their building, we didn't just think the words sounded good if you get our drift....
First and Only B Corp textiles mill and clothing manufacturer in Scotland
We only weave fabric from 100% natural fibres, wool sourced ethically through Scottish spinners and dyers. Over 60% of all textiles used in clothing are made from oil synthetics, we want to see that become 0% in the future, wearing oil is not cool
We have a dedicated section on our website to our Supply Chain
We make all our clothing at our mill from the fabric we weave, carbon mile free
We make clothes for women that are wash free. We established a 'No Wash Club' guide for all wool clothes, saving 25% of garment carbon generated by machine washing, saving money for customers on energy and detergents, saving time for them and time to save the planet
All our clothing comes with a Price Transparency policy, detailing all the costs to make each piece and information on how we do it. In addition to this we share more about mark-up principals and how we compare to industry standards.
All our clothing comes with a Cost Per Wear guide, demonstrating that loved clothes save you money
All our clothing comes with flexible payment plans that do not encourage our customers to put themselves at financial risk
We are an accredited Scottish National Living Wage Employer
Our mill operates solely with green energy sourced via wind and water renewable sources in the Scottish Highlands
To actively reduce consumption and waste our core 4 X A Collection is only available to pre-order via the 4 X A Year Club. Encouraging considered purchases and breaking down impulse spends.
All our clothes are made with no fabric waste, typically 25% of all fabrics used in the fashion industry get cut when following ill-fitting patterns and binned before anything is sewn
All our clothes can be completely recycled when beyond reuse and repair, the fabric is 100% wool which means it will also naturally decompose. Our leather straps can be removed easily and will also decompose, and our buckles can be used again. Only 1% of all clothing is recycled worldwide, this means that 99% of clothes will eventually end up in landfill, we need that statistic to be reversed as quick as possible
We do not use zips or buttons because not only are they troublesome for recycling, but they limit the size range of clothes. We only ever use a strap and buckle, this way all our adjustable clothes have a size range of 3 inches built in!
We want to help encourage reuse as much as possible, we have our Repeal-It Marketplace and have our own Anti-Landfill Label Initiative
By making clothes from fabric squares and rectangles only, anyone can deconstruct our garments and have super usable pieces of wool fabric.
Within our Kick Ass Kilt pillar of your wardrobe not only do you get a kick ass kilt, but you get a cape and a dress or top item too. That's 3 uses in one with multi-sizing and no waste, yes, it's really that awesome!
All our coats and jackets can be worn two ways, just flip it and you have a shorter version, even our add-on pockets and strap closures work both ways, genius right
In October 2022 we unplugged from social media platforms and we started our sh#t free social rebellion! Read all about the why and maybe even join our new sh#t free ways....
Activities
Let's together always be raising the fabric of rebellion wherever we go…
The Bad-Ass Story of our Existence
Where did it all begin, the why then, the why now and the future of why not?
Officially A Rebel Member Of
Officially A Rebel Member Of