Our four pillars of purpose
inside boundaries of paradox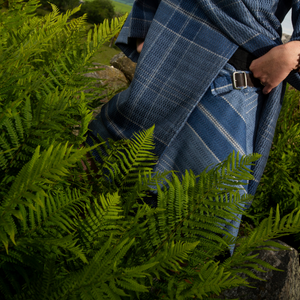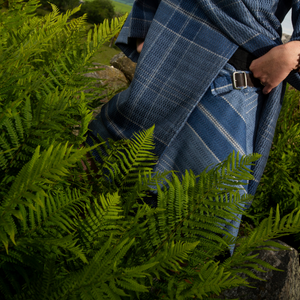 using our voices & hands for change
defined by what we are not
What goes into our fabrics?
We use only the finest quality ethically sourced natural raw materials to create all Prickly Thistle fabrics and products.  Currently all of our fabrics are woven with the cool club winner of the natural fibre world, wool.
How are the fabrics woven?
All of our fabric has been woven using traditional methods on dobbcross legacy looms dating back to 1929.  Just like the famous Harry Potter Dobby, they are their own masters and are free to get creative.  So, this is why, at our mill we always blend ancient skills with modern design disruption.  That means we love to break the rules, many of our fabrics are not what you might expect tartan to look and feel like.  But we reckon it's time to change the tartan record and add something new to this story!
How's best to store my wool clothing?
All nature is wonderful but gosh those pesky moths are a nightmare for wool! Guess they just love it as much as we do. You can get cedarwood balls to put in your wardrobe but don't worry we've got you covered on this one too – all Prickly clothing items come with a cedar hanger which helps with repelling moths. We also include an organic cotton bag with every order which you can use to store your piece if you plan on not wearing it for a while
Will it get stained?
Merino wool fibres have a natural protective outer layer that helps prevent stains from being absorbed e.g. if you accidentally drop a Prickly scarf in a muddy puddle while out for a walk, a quick shake should get rid of anything on it. If something nastier persists, a few dabs with a damp cloth should see it sorted
What is the best way to wash?
One of the amazing things about wool is that it really doesn't need washed! Check out our No Wash Club to find out more on this. If you do feel it's necessary, we recommend handwashing with a little bit of eco-friendly detergent that's suitable for natural fibres. Use as little as necessary by spot cleaning if you can!
Can I put it in the washing machine?
We simply say don't machine wash, if it really needs submerging in water then do this with tepid warm water and gently clean by hand.  Machine washing is such a water intensive process, but at the same time you risk taking out of your machine a new outfit for a Borrower.  As soon as wool mixes with hot water it retracts, and boy it can shrink some!
What about dry cleaning?
Yes our garments can be dry cleaned but this process involves releasing some real nasties into our environment.  So for that reason it's a please don't do it answer.
How do I dry it?
Flat out is best.  Wool is very stretchy which means if you hang it up to dry the weight of the water will put it out of shape. We suggest placing the damp garment flat on a clean towel, roll the towel up and squeeze out excess water, then find somewhere flat and warm to let it dry naturally. 
Also… No tumble drying!
Can I iron it?
Wool garments don't really need ironed because the fibres are like springs! After being bent they return to their natural shape which gives them a great resistance to wrinkles. Nonetheless, if you wish to press your Prickly piece with an iron, please make sure you use a wool setting because extreme heat damage is irreversible.  Remember body heat also works, so the more you wear it, the less wrinkles, and the lower the cost per wear is!
Dammit! I've snagged a thread, what do I do?
It can be worrying when this happens but don't worry! Think of this like a pair of curtains - the snagged area will look like they do when they're open and all bunched up at the sides of the window. The solution is like closing them for a peaceful night's sleep! Stretch the fabric to get a good view of the area and smooth out the bunches - massaging the area until the pulled thread goes back into place. If the issue still persists, get yourself a tool like a needle and work it back in that way.
What chemicals are used to finish the fabrics?
We maintain trusted relationships with our suppliers to ensure planetary damage is avoided. This commitment extends to people too, so for those with health sensitivities these are the chemicals used on our fabrics by our finishers:
PERFACOLOR WPA - a protein-based dyeing auxiliary designed to maintain the quality of wool textiles during aqueous processing
PERFASCOUR MSA - a blend of selected non-ionic and anionic detergents developed for processing wool and cashmere in both knitted and woven form
I have other questions, can you help?
Of course! We get it that fibre chat can be a bit daunting to navigate. Any questions at all please fire us an email at shop@pricklythistlescotland.com
The Bad-Ass Story of our Existence
Where did it all begin, the why then, the why now and the future of why not?
Officially A Rebel Member Of
Officially A Rebel Member Of