NEW COLLECTION COMING....
Clothes Made For Womxn By Womxn
Clothes Made to Make Sh#t Happen!
Make a Purchase, Make a Difference
Officially A Rebel Member Of
Looking for clothes that do not destroy people and planet in their making, their life-time and end of life?
Want to find a brand who doesn't just cherry pick the good bits of the story and a brand brave enough to share everything with you.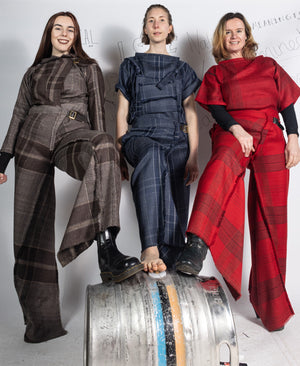 Born
to
Build
With
Bad-Ass
Values
We are the solution!
What you see is literally what you get, no pretending. From every image we share being someone in our team to all our Giving A Sh#t About transparency pages in our footer.
X We make bad-ass build your own clothes with 100% wool fibre fabric that we weave at our mill in Scotland.
X We are Scotlands' FIRST and ONLY B Corp Certified textiles mill and clothing manufacturer.
X We have four pillars of purpose that guide us, but also make us accountable to everyone.
Our Four Pillars of Purpose
Keep Scrolling....
Before you freak out with excitement over our creations, we have two warnings for you, plus we love a good quote to get us going....
100%
You will feel confident and conscious in our clothes.....
Whatever we wear says everything about us. Who wants to say they support modern slavery, environmental destruction and corporate exploitation? We are with you on this, it's a big natural no from us too!
"There was a womxn who gave a sh#t, she now lives happily ever after...."
100%
You will never want to wear anything not natural again....
Natural fibres are genius! When used to create clothes with no landfill waste, to forever be circular, it's just WOW! We say, shove your highly flammable, oil based 'fashion' where the sun don't shine....
Now the bit you have been searching for....
Not only are we making the most ethical clothing for womxn in the world, its a totally wash-free wardrobe too!
Every making sh#t happen womxn never has enough time to save the world, but with a bit less laundry we might get closer. Check out the No Wash Club for all the rules....
Shop The 4 X A Year Collection
4 Colours, 4 Clothing Types, 4 Times a Year
Plan your purchases, say "see-ya "to impulse spends and adopt the Cost Per Wear approach. We guarantee you will save money in the long run, and feel amazing at the same time!
Step 1 - 4 times a year we unlock our 14 day pre-order door
Step 2 - We make your clothing to order, to your size, no waste
Step 3 - We ship your made to measure clothing direct from our mill to you
Step 4 - We repair the fabric of the planet together, while you look and feel incredibly bad-ass!
All Clothes By Collection
Click below to see all of our current collections. Also see our available throughout the year one off wonders, pre-loved marketplace and if you are a VIR member check out our early previews on these!
Let customers speak for us