Our four pillars of purpose
inside boundaries of paradox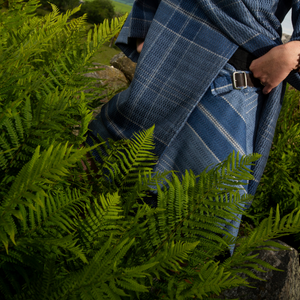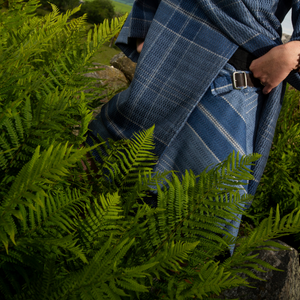 using our voices & hands for change
defined by what we are not
As this is a first for us, please do not hesitate to email us on moi@pricklythistlescotland.com should we not have covered your question below.
Throughout this current health crisis, we have tried to maintain integrity, being acutely aware the virus is not a fashion show!  For us to sell any mask related products we had to go above and beyond.  Therefore, we made sure we tested our fabric and mask design to medical standards to understand how effective it was.  This is not legally compulsory in the UK, but we did it because we believe it is compulsory when the health of another fellow human being is at risk.
Leading by example, challenging those who need challenged and stay safe,
Clare and the tartan rebels x
How do I order a Mask of Integrity? – UK Only – Subscription
To order the Mask of Integrity for UK delivery, please go to the MOI product page and select your preferred subscription package, either 3 month or 6 month mask replacement programme.  Then select the Mask of Integrity size you wish to purchase or select the made to measure mask and we will contact you to confirm your measurements.
How do I order a Mask of Integrity? – Rest of World

 Only – Outright Purchase

To order the Mask of Integrity for the rest of world delivery, please go to the MOI product page and select the Outright Purchase option.  Then select the Mask of Integrity size you wish to purchase or select the made to measure mask and we will contact you to confirm your measurements.
Can I gift a Mask of Integrity to someone else
?
Yes we have a gift option within the collection, this package currently allows you to gift four masks that will cover 12 months use (if delivered in the UK) or you can purchase two masks outright for delivery to the rest of the world.  
How do monthly subscriptions work for the UK only?
The user-customised subscription service will equip you with two reusable masks and provide a regular replacement schedule dependent on your usage habits. We're working with Zero Waste Scotland to ensure that all of the masks are returned to us as part of this subscription service so that we can champion textiles recycling as part of the future of Green Scotland.

For example, if you start your subscription on 14th Oct, you will pay a £25 deposit upfront, along with the first months rental of the two masks which is £7.50 and receive two face masks around the end of Oct.  The replacement masks will be processed (depending on your subscription plan) 3-6months later.
How does the replacement work for subscriptions?
14 days before your replacement masks are due to be shipped we will email to remind you that this is happening.  We will send you two brand new masks as replacements in the post along with a returns label for you to use the same packaging and return the used masks to us for recycling.  Your returns label will be sent via e-mail on request from you, you will have 7 days to use this, should that time expire we will cancel this label and issue a further label also via email.  Should we not receive the used masks back within 14 days of your replacement masks we will advise you that a second refundable deposit will be charged for the two new masks until they are returned.  When returned we will refund you the deposit charge.
What type of fabric is the Mask of Integrity made from?
The Mask of Integrity cloth is made from 100% natural wool fibres. Each mask has a bendable nose wire to contour your nose and elastic straps with discreet adjustable toggles.
You can also read more about the Wonders of Wool, a little list of the things we love about wool that you might not know!
Can the Mask of Integrity be washed and how do I best look after it?
The Mask of Integrity is reusable and washable at a high temperature (60+ degrees). However, do not bleach or iron the masks. We will make sure that all of the important information you need on fit, care and use is provided in a simple but clear way.
As the product is 100% wool, on occasion fibres may pile (come loose), this is natural shedding, similar to a woolly jumper. If this happens and you find the mask becomes irritable, you can place the mask in the freezer overnight and this will help reduce the shedding.
What makes the Mask of Integrity tailored fit different to other masks?  
The Institute of Occupational Medicine in Edinburgh carried out lab tests on our Mask of Integrity in August 2020. They used the industry standard Portacount method and our mask recorded both an excellent fit but also effective in reducing particle transmission from the room to inside the mask. This was measured by comparing the % of ambient particles in the room with how many were inside the mask. The Institute of Occupation Medicine were impressed with the natural fibre performance and confirmed this was due to the fabric's ability to create a flange like seal on the wearers face. They also commented on the benefits of the positioning and optional lengths of the nose pinch wire and fitting straps.  Both allowing for a more tailored and secure fit.  You can view the test results here.
The Mask of Integrity is a lot more comfortable than the average mask as it has adjustable ear loops so that it can be worn anywhere behind the ear or can also be worn over your head and around the back of your neck.  With generous lengths of elastic cord in all four corners, you can alter at anytime. If worn daily, for prolonged periods of time, we suggest you change the position of your ear loops reasonably regularly. Most people are not used to a strap behind their ears and the area can be sensitive so this will give you a variety of options and allow your ear the rest.
Does the Mask of Integrity come in a variety of tartan designs?
Initially there will be one Prickly Thistle tartan version. As much as we love lots of tartan colours and designs, we know this Mask of Integrity is not a fashion accessory, it has a health purpose.
The tartan for the Mask of Integrity is our Rebel Generation design, which is part of the Highland 14 collection.  It's aptly named Rebel Generation, and the title is now symbolic of its use; where we now all wear masks to protect not only ourselves, but those around you and all of the future generations.
Where are your masks produced?
All of our products, including the Mask of Integrity are made in Scotland, the cloth is woven at our Highland mill and the Mask of Integrity is sewn and assembled together in our sewing studio at the Prickly Thistle pop-up Mill.
Do you sell masks for kids or children?
Yes, our Mask of Integrity comes in a variety of sizes, tailored to fit each face size. You can order with your specific face measurements or select from the sizing chart (XS, S, M, L, XL).  
Do you take custom orders?
Yes, you can order via our shop and provide your specific face measurements or select from the sizing chart (XS, S, M, L, XL) we have provided. Our Mask of Integrity is only available in one tartan style at the moment.  We may in the future look at custom design orders, whereby if you were an organisation or community looking for a larger volume of masks in a particular design/colourway.  All enquires of this nature can be emailed to moi@pricklythistlescotland.com 
Does the Mask of Integrity prevent getting COVID-19?
We have ensured that our Mask of Integrity is quality tested to ensure optimal face-fit and filtration efficiency. There are many types of "Personal Protective Equipment," including masks, designed to mitigate the risk of contracting or transmitting COVID-19, but nothing is a guarantee.  We do know that when you are in close company of another and you both wear a face mask then the risk of spreading the virus is reduced from airborne droplets and aerosols we emit when talking, sneezing or coughing.
Is the Mask of Integrity classed as a medical PPE?
No, our mask has, however, been tested subject to the same rigorous testing as a medical device.  Currently our mask is not suitable for wearing in a medical setting.
Are there any other benefits to wearing a mask?
Facial coverings are used to protect not only you, but those around you. With many diseases, there is an incubation period during which time an individual may be both asymptomatic and contagious which increases the chances of transmission. Wearing a mask is one simple way to help reduce that risk. 
How do I cancel my Mask of Integrity subscription?
You can cancel your Mask of Integrity subscription by emailing us at moi@pricklythistlescotland.com. Once we receive your old masks to recycle and re-purpose as a new textile product, we will return your initial £25 deposit. 
You can decide if you wish to have the £25 returned directly to you or you can choose to help us support Masks for NHS Heroes and your kind donation will show on our Pay It Forward page. 
What happens if my payment fails?
If your subscription payment fails, we'll retry your payment method up to five times and drop you a message to better understand what might have gone wrong.
I received the wrong mask or a defective mask, can you help?
Yes, we are here to help always. If you've received a defective mask or the wrong mask, please reach out to the Prickly Thistle team by emailing moi@pricklythistlescotland.com and we will make sure you are looked after
Does the Mask of Integrity have a medical grade?
Our masks have not designed or intended to prevent, mitigate, treat, diagnose or cure any disease or health condition, including COVID-19/Coronavirus in a medical setting. Our masks are intended for general public use only. They are non-sterile and are not intended for use in any clinical or surgical setting or where exposure to bodily or hazardous fluids may be expected, where the risk of exposure through inhalation is high, or near intense heat or flammable gas. Our masks are not surgical masks, personal protective equipment, or filtering respirators (such as N95 or FFP3 masks).
Why a subscription service is our solution to protect the planet?
We have always been fighting for a more sustainable fabric way of life.  Globally the textiles industry contributes to more carbon damage than aviation!  On top of that there is billions of tonnes of textile waste sent to landfill each year, many of which are made from poly based yarns which are not biodegradable.  We are also acutely aware of the new plastic pandemic which is single use surgical masks.  These masks are now littered everywhere sadly.  With a subscription service we can provide a solution to ensure mask owners take better care of their textile waste.  By providing a recovery solution, we will recycle all used masks as part of our design our waste mission.
Why will I be sent a monthly survey for the first 6 months?
This is a first for us, and we know we will get a few things wrong along the way....  But we always believe that even when something fails, you learn more, to make an even more positive impact in the future.  With that we will hopefully not overwhelm you with surveys, but a quick 5 question update on the monthly anniversary of your mask usage.  All feedback is gratefully received; you our customers inspire us, and we always know we need to be more.
How do I wear the mask?
With 30cm elastic cords on all four corners of the mask you can wear this mask with ear loops or over your head, as show in our how to wear infographic. 
What is the replacement email?
This will be a little reminder email sent to you automatically, 14 days before your replacement masks are due to be shipped.  Just to let you know they will soon be on their way and that you can have your used masks ready for returning in the same packaging.
What do I do when I receive the mask?
Before wearing the masks please wash these in accordance with the washing instructions.  This will ensure that on first use they are clean and unaffected from any shipping contamination from packaging your items or transportation.
You can then assemble the cords in your preferred manner, either as ear loops or for over your head.  Instructions on how to fit the cord gripper will be emailed when your masks are dispatched.
Why will it only be masks in the box?
As we try to incur as little waste as possible, your masks will arrive with only the two masks therein.  All instructions and references will be emailed to you so that we can minimise possible paper waste.
How will the masks be recycled?
For our UK Only subscription service customers, we will recovery all used masks and sort at our mill in the Scottish Highlands.  Initially we will look at how disassembled masks, i.e. after removing the cords and nose pinch wire, the fabric once cleaned can be used for insulation applications.  This can be for wildlife and humanity projects across the UK.  This will require minimal processing but results in maximum zero waste of the fabric.
We are also working on developing Scotland's first textile recycling hub, currently the biggest challenges have been the 'mixed waste' types and difficulty in segregating this.  However when we know we are recycling pure natural fibres we eliminate all of those barriers.  Sadly in the textile industry, even what is on the label is not actually what is in the fabric....  So, this is a big challenge for us, but we never give up and we will keep designing out waste in everything we do.
Why is the mask the shape and design it is?
Our mask pattern has been created to ensure there is zero waste of the wool fabric when making, they all fit together like a jigsaw when flat!  As a natural gift to our zero waste design principles, and a little bit of clever thinking, the mask itself when assembled takes on a cup like shape over the nose and mouth area.  Creating a natural breathing chamber which enhances the comfort factor of the mask.
You will also note the fixing of the side cords and nose pinch wire has been done in such a way that not only is it secure for you the wearer but also allows us to disassemble in a simple manner to ensure that the pure wool fabric can have a future life, maybe even as a kilt!
The Bad-Ass Story of our Existence
Where did it all begin, the why then, the why now and the future of why not?
Officially A Rebel Member Of
Officially A Rebel Member Of